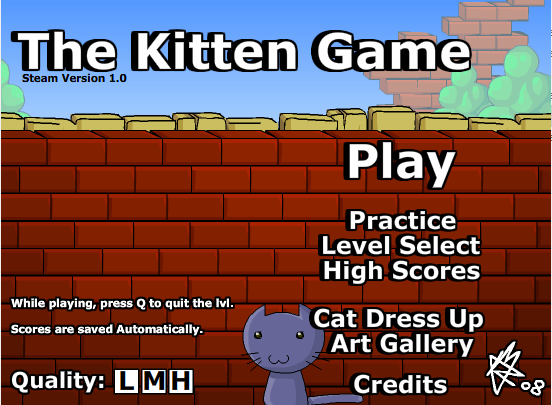 Something I've been planning to do for a while is to package all of my old Flash games into a single Steam app, for the purpose of long-term preservation. Technically this is easy enough – I just need to program a simple Adobe AIR app that can load Flash files, which is how most of my Steam games already work.

The hard part is figuring out how much I should change the games themselves.

I obviously need to remove music that I don't have permission to use – and there's a lot of that in my old games. I'll aim to replace it with music that Phyrnna made around the same time as each game was made. I'll also need to edit copyrighted characters that are a bit too obvious – like recoloring some of the Pokemon. And finally, users will expect a few Quality of Life features – mute button, fullscreen mode, Steam achievements – stuff that is essential now, but wasn't at the time. I don't think anyone will complain about QOL features.

But things get tricky in a few cases – is replacing silly text tips with more useful ones a QOL change, or is it censorship? What about replacing a ridiculous font that's almost impossible to read? What if I want to keep the old font, but I don't have it installed on my computer anymore, and can't find the exact same one?

Is making the game easier a bad thing, even if it was universally panned for being too hard? (no one complained when I made EBF3 easier by adding QOL features and lowering the requirements for minigames)

What about really offensive and cringy content? Well… I guess I need to keep that in. Even the bad guy's Swaztika armband may need to stay. That one AIDS joke too.

I'm interested to know what people think about all this – how much change is best? Maybe the bare minimum, plus some QOL, like in Epic Battle Fantasy 3?

I'm leaning towards that.

I started updating The Kitten Game, only to quickly realize that it loses a lot of charm if I update too many things. We're talking about stuff I made 12 years ago. As Ronja said, "It's good because it's shit."

It's also less work if I don't change much.